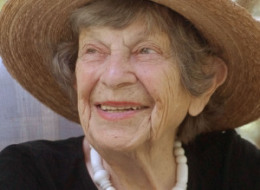 Earlier last year, I came across an amazing documentary entitled Run Granny Run. The documentary features one of my favorite women in the world Doris "Granny D" Haddock who at 94-years-old dared to run against Republican Judd Gregg  in the New Hampshire Senate race in 2004.  With only four months preparation, Granny D was able to win 34% of the vote.
I was sad to find out today that Granny D had passed away on March 11, 2010 at the age of 100. I'm wondering why I didn't hear that she had passed away – for I think that everyone should have been given a review of her life and know who she is…
Granny D's began her political career at 89-years-of age. She felt that she needed a reason to live – thus she laced up her sneakers and unfathomable gumption and set out to inspire men, women and children to get involved in the fate of the US democracy. She felt that the US government has fallen away from its core principles, especially when it comes to campaign finance. She points out something that troubles me as well — the man/woman with the most $$$$ seems to walk away with the win. This is surely not what the founders of our great country envisioned back in the day.
In an effort to make people aware, Granny D at 89-years-of-age set out to walk 3,200 miles across the country. Her trek saw her travel through 1,000 miles of desert, climb through the Appalachian range in blizzard conditions and ski 100 miles where the snow was too deep to walk.
As I write, I can't help but be near tears. I'm wondering why we – the amazing human race – can often sit by and not choose to stand up for what we believe in. We are our present and future. Too many times we sit and complain – forgetting that we have every right to make the difference we wish to see.
For instance, I turn on the news and see our country run by politicians who all too often appear to be self-serving & egotistical. It's quite a sad thought when you think of it – so many of them are controlled by special interests, even when their souls tell them that they are selling out. And it is somewhat funny too…that these men and women who sell out think so highly of themselves. A wise man once told me that those with inflated egos are usually the weakest of them all.
Little, frail and ego-less Granny D yells from the mountaintops that we can't forget that "We the People" have the right to stand up and say, "enough already!" If we want an amazing & beautiful world, we must stand up and demand it.
Thank you Granny D for your ability to follow your heart. We forget that it is only through action and following our dreams that we find the energy and happiness that we are looking for. It takes work and devotion to goals to make this life worth it.
I strongly recommend that you rent or buy Run Granny Run. It may change your life!!
Here is the movie trailer for your enjoyment:
– Make it a bold day!
Post by Jennifer Engevik